Tree Removal
Do you have a dead or dying tree or a tree damaged in a storm? Here's what you need to know about Tree Removal.
Get a Free Quote
Do You Need Tree Removal?
How to tell and whom you should hire to get the job done right the first time.
Thinking about tree removal? No one likes to have unsightly broken, dead, or damaged trees in their yard. Not only can they wreck your curb appeal, but they can also be a real hazard. A tree that is dead or dying becomes dry and brittle and can break or fall. Instead of taking a chance on injury to you or a family member or damage to your home or property, consider professional tree service for removal before something bad happens.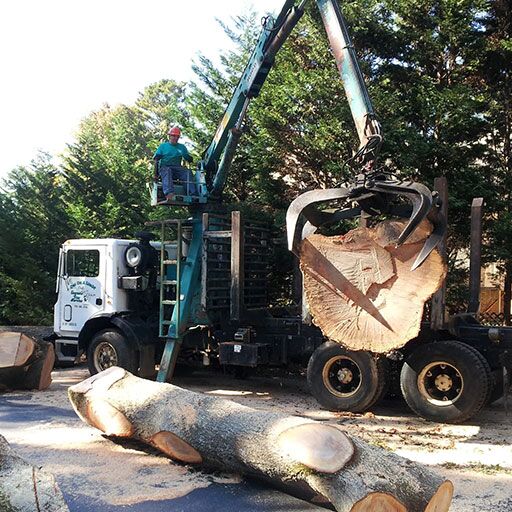 How to determine if trees require removal.
We know it can be hard to let go of a tree, especially one that you've had for a long time, that provides shade or protection, or one that is exceptionally beautiful or has sentimental value. But if it's diseased or dying, it's in your best interest to remove it before it can do any damage. Here are some things to look for:
A tree that's leaning in an unnatural or new way

Roots at the base of the tree where it meets the ground are decaying or show signs of damage, fungus, or heaving soil

Cracks in the bark or the trunk of the tree

Discolored, misshapen, or curled up leaves

Fungus on the surface of the tree or crumbling in the trunk or branches

Large, dead branches on more than 50% of the tree
Certified Arborist
What's an arborist, and what can they do for your yard and landscaping?
Who to hire to remove a tree?
It can be tempting to attempt the removal on your own, but it can be difficult and dangerous. Trees are usually taller than they seem, considerably heavier than you might think, and can be unpredictable when they fall. Instead of risking a crushed car, damaged roof, or worse, hire a professional when you need removal services, and especially if you need emergency tree removal. Look for a company that is licensed and insured, that will give you a free estimate, and that has the equipment and training to manage the job effectively and safely.
At Engram's Tree Service, not only have we been in business for more than 25 years, but we are fully licensed and insured, with an arborist on staff. You can count on us for any of your tree service needs, including tree removal, whether a scheduled consultation or an emergency removal. Contact our team of professionals today.
Open Hours
Mon-Fri: 8am - 4pm
Sat: Appointment Only
Sun: Closed
Our Office
Engram's Tree Service
674 Roper Road,
Canton GA 30115
What we Do
Tree Removal
Stump Grinding
Trimming
Thinning
Storm Damage/ Emergencies
Certified Arborist
For Emergencies or 24 hour service, call or text us at
770-265-4267