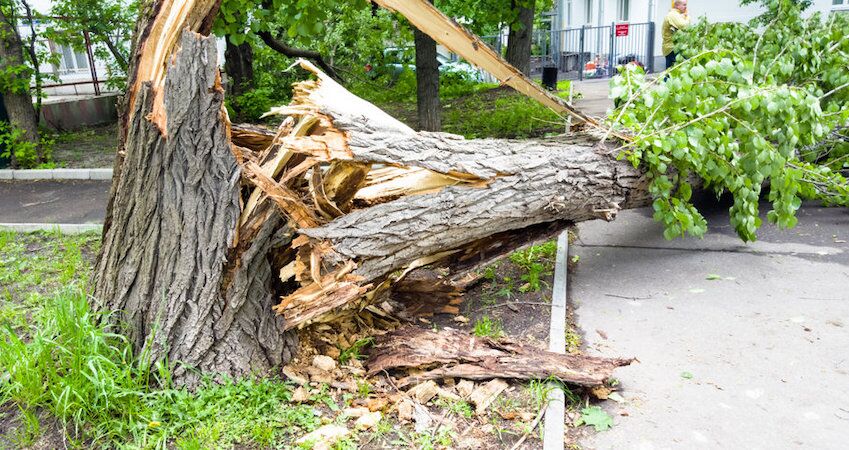 What should you do to stay safe around your trees after a storm? It's crucial to use extreme caution on your property after experiencing any kind of inclement weather. It's especially important to use caution after particularly high winds, tornados, ice storms, and lightning. Consider these tips to protect both your property and your family:
Watch for and Avoid Fallen Power Lines Around Trees
Do not touch or remove fallen tree branches near sagging or downed power lines. Instead, report power line problems to your local utility company immediately. Power lines that have fallen or are near a tree following the storm can be extremely dangerous and require the professional attention of a qualified technician.
Use Caution Around Fallen Branches Hanging from the Tree
Avoid walking under or around trees that have visible limbs dangling or a leaning trunk. Doing so will put yourself at risk for injury from falling branches or a toppling tree. Even the smallest disturbance can send the branches or tree crashing down. If you want to inspect your trees following the storm, use binoculars instead and contact your trusted local tree service to provide a professional inspection.
Stay Away from Uprooted Trees
If you notice uprooted trees after a major storm event, avoid walking around them. There may be underground utilities that have experienced damage and can pose a safety hazard. By contacting your local utility company and tree service, you can protect yourself from injury or even death.
Refrain from Tree Work without an Experienced Professional
While it may be tempting to get out to clean up your yard following a storm, it's better to wait for a professional inspection first. Attempting to remove trees or prune limbs that may be damaged requires professional equipment and skills. Also avoid using unqualified tree cutters who may come to your neighborhood to offer their services. They tend to prey on stressed homeowners who want a quick fix, but they can end up doing more damage than good due to their lack of expertise.
Turn to Engram's Tree Service for Trusted Tree Care After a Storm
At Engram's Tree Service, we have a certified arborist on staff and a team of experts who will be there to ensure your trees and property receive the proper care following the storm. We have the specialized equipment and training to protect your trees and property while avoiding additional damage or safety risks.
Whether you need professional tree removal or tree trimming, our team knows how to get the job done safely and correctly, so you can get your property back to normal as quickly as possible. No need to risk your personal safety! Contact us online to schedule professional services for your trees after the storm.